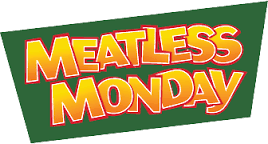 The mission of the Meatless Monday program is to promote going meat-free one day a week. Novato USD FANS moved toward Meatless Monday in 2010.
It's one of the easiest and more effective ways of getting people, especially children, interested in the numerous benefits. It's our goal that our students and community at large understand the great impact they can have by making one small change, one day a week.
Meatless Monday was started by the U.S. government as a resource-saving measure during World Wars I and II. In 2003, it was revived by The Monday Campaigns in association with the Johns Hopkins Bloomberg School of Public Health to reduce meat consumption by 15 percent for our personal health and the health of the planet. Celebrities from Oprah Winfrey to Paul McCartney are participating. K-12 schools, universities, hospitals, and restaurants across the country are getting on board. We are proud to become part of this growing list.
The school district has meatless options available every day and is meat-free on Mondays. On Meatless Mondays, students enjoy veggie burgers, baja bean burritos, California quesadillas, veggie pasta marinara, sunbutter sandwiches, or a garden salad bar.
We invite you to join us by engaging in Meatless Monday at home. Here are some recipes.
Visit the Meatless Monday website here...