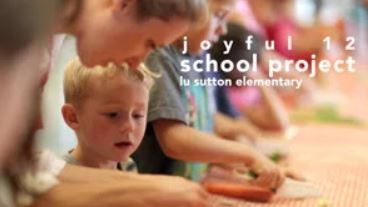 | | |
| --- | --- |
| What is the Joyful 12 School Project? | |
The Joyful 12 School Project all started because NovatoFoodAndNutritionServices Director Miguel Villarreal asked Chef Hollie (learn about Chef Hollie here) to help him at Novato FANS, expand his great work deeper into the community with parents and kids learning to cook and eat more vegetables at school and home.
By connecting the 3 Cs: the Cafeteria, Classroom, and Community, the Joyful 12 School Project showed through our pilot that when you bring an entire school community together, you can impact behavior change in a short amount of time by creating a culture around food education and participation. Specifically, we showed positive behavior trends in vegetable and fruit consumption at school and have begun to tie this back to how food literacy can positively impact participation rates in the cafeteria.
We are expanding the pilot we started at Lu Sutton Elementary in 2015 with all the parents, teachers, kids, and staff, this Fall, to include in-school food education labs for all 350 kids. See what we have accomplished and where we'd like to take the project in Novato and beyond! Whole Foods Market® is our presenting sponsor and we also have partnerships with the SF-Marin Food Bank and Meatless Mondays...